The Dierks High School will be having pep rallies starting September 25, 2020. Pep Rallies will be restricted for students 7-12. The public will not be allowed to attend nor will the elementary, however, we may be able to live stream on Facebook Live if available. Cheerleading will be able to travel to away games starting September 25, 2020. The Arkansas Activities Association, Arkansas Department of Health and Arkansas Department of Education have released travel guidelines that will be enforced and followed.
This is a final reminder for anyone who was contacted about immunizations, but hasn't communicated with the school. The date is October 1st to get an appointment, or get a copy of your child's updated immunization record to the school. This is a state mandate. Please call with any questions or to let us know your appointment date (870) 286-2015 ext. 247. Thank you for your cooperation!

Thank you to everyone who returned all registration paperwork by the Sept. 4 deadline. If you have not returned yours, please do by 9/16/2020. We are updating records and need current information. We also ask all families to complete and return one meal application form per household. Our students benefit from funding that is determined by meal applications.
Parents, The flu clinic at the school will be Monday, October 5, 2020. Please fill out the forms that will be sent out today and return to school by Friday, September 25th if you would like your child to participate. Thank you!

Please remember to observe the current guidelines while attending football games at Ayers Field. Also, pay special attention to the following: * Items may not be placed in the stadium to reserve seats at any time. * Children are to remain with a parent, guardian, or supervising adult. * Ribbons are tied to the fence to designate proper social distancing. Click the link below for complete stadium guidelines:
https://rb.gy/lbo7bs
As of right now, there are no known positive cases in the Dierks School District. Students who have been identified as a close contact to someone with COVID-19 in the future will be notified as quickly as possible by the Point of Contact for Dierks Schools, Lindsey Stokes. Communication with parents will be our number one priority. Every precaution is being taken for your child's safety. Everyone please keep in touch about testing dates and results by calling 870-286-2015 ext 247. This number can be reached 7 days a week 7am-9pm.

This announcement serves as a notification that all students, including virtual students, of the Dierks School District are eligible to receive free breakfasts and lunches beginning Wednesday, September 9th through December 31, 2020. Please keep in mind that a la carte, or extra items, must be purchased.

Reminder: School will be closed in observance of Labor Day on Monday, September 7th.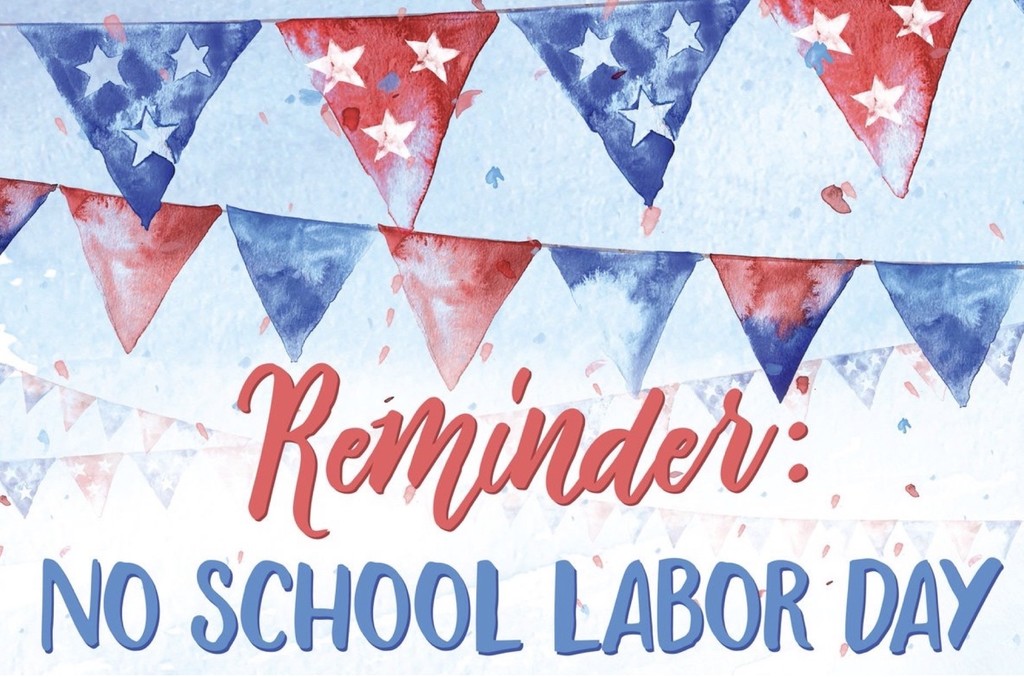 Dierks Public Schools will be out of school Monday September 7, 2020 in observance of the Labor Day holiday. FFA students will participate in the Howard County Fair September 8, 9, 10 & 11th. FFA students will participate in the 4 States Fair September 16 & !7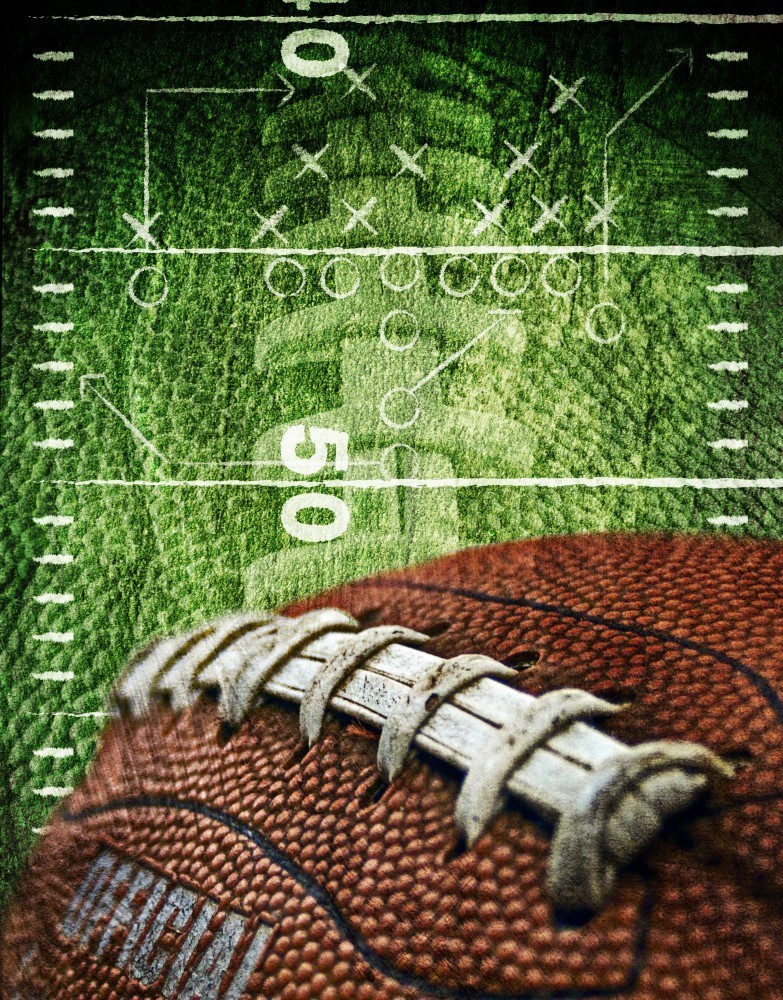 In an effort to prevent the spread of the COVID-19 virus within our staff and student body we are asking all parents/guardians, and all employees to notify our designated Point of Contact immediately when the following occurs: • Someone in the household has tested positive for COVID-19. • Someone in the household has been identified as a Close Contact to a positive case of COVID-19 and is requiring quarantine and/or recommended to be tested for COVID-19. • Student attending on -site and employees who are being tested for COVID-19. If symptomatic, student/staff should remain in quarantine pending results of their COVID-19 test. Please call Lindsey Stokes at (870) 286-2015 ext. 247, or email information to
lindsey.stokes@dierksschools.org
. Thank you in advance for your cooperation. Together we can help keep our Dierks School District family safe, healthy and ready to learn during this unique time.





Parents of the Dierks School District, Please take time to fill out this survey by July 13th through the following link concerning your intent as a parent for the 2020-2021 school year. This is vitally important as we make decisions in planning.
https://forms.gle/kwXZRLQiRSbVZZEo8

Information regarding the opening of the 2020-2021 school year.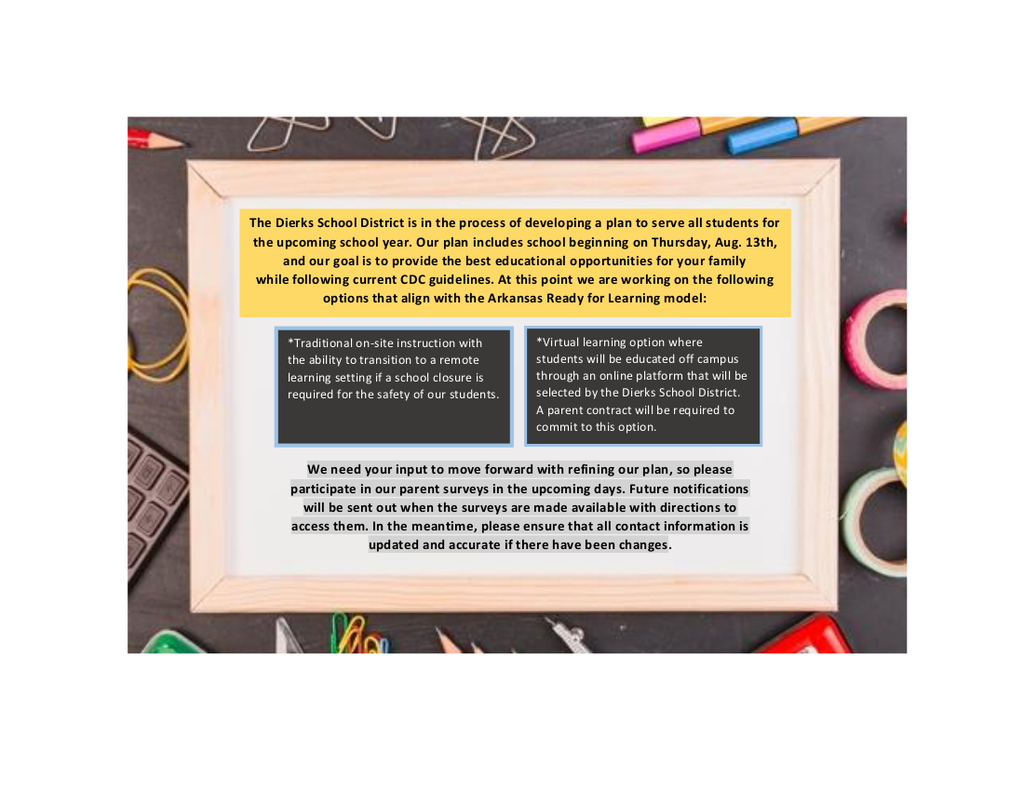 All student activities in the Dierks School District are postponed until further notice.

The Dierks Outlaw baseball team would like to thank Mark Jackson and First State Bank of Dierks for the generous donation for a new outfield fence at the baseball field. First State Bank logos have been ordered and will be placed on the fence. Thank you for your continued support for our school and the students in our community.